Project Description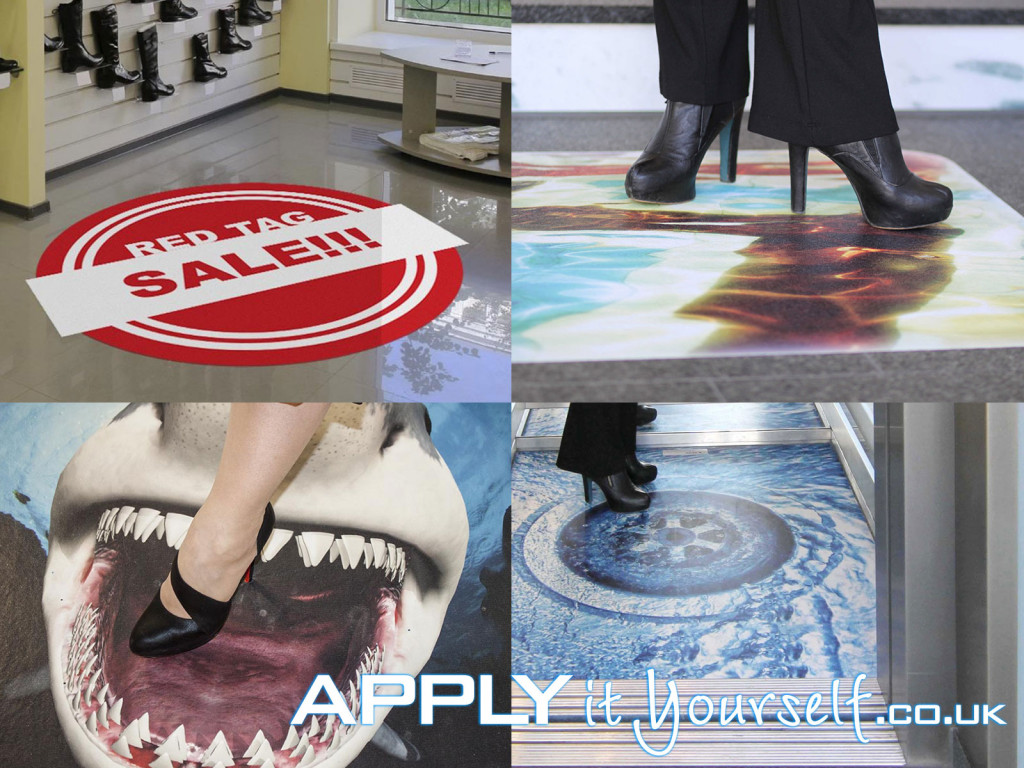 Floor stickers, floor decals, floor graphics, promotion, event
Custom floor decals. Design it Yourself. Apply it Yourself. Design your own unique vinyl printed custom removable (temporary/reusable/re-positionable) floor decal (solution/signage/stickers). cut-to-shape (die cut) into almost any shape and size. Design your new mock-up of your floor decal easily online with our designer.
Floor decals are an excellent way to grab the attention from passerby's, from all angles. Unique bespoke floor decals add branding, advertising, or imagery to the floor of your business, home or event. Turn your underutilised floor into an eye-catching promotional tool. Floor decals receive unique attention, allowing you to create a strong visual message, to get your business noticed. Your custom DIY floor decals will be of professional high quality anti-slip vinyl (R9 certified). Your bespoke floor decals are highly weather, water, scratch and UV resistant. And are easily removable. The anti-skid structure gives the floor decal a structured luxurious matte finish.
Buy quality cheap made-to-measure DIY floor decals with your logo and/or with your name on it. School logos, sports logos, quotes, retail communications, branding, etc. Anything is possible.
Quick quotes, quick turnaround and quick delivery of your custom floor decals.
Designing Floor Decals
A floor decal cannot contain anything smaller than 50mm. Lines need at least a width of 50mm. A dot (the smallest possible object) need to be at least 50×50 mm. In addition, floor decals cannot contain shape edges (i.e., spikes, pointy lines, etc.). Edges need to be very curved, shaped like a circle, snowman, dog-paw, etc. As this will maximise the durability and longevity of your unique custom durable floor decal.
You can add signage, advertising, and imagery to your DIY floor decal to utilise the floor of your organisation. Custom floor decals are a catchy and cost-effective way to make a lasting impression. Turning passersby into customers.
Small, large, XXL floor decals everything is possible. Your floor decal can be printed to sizes of about 1300x3500mm from one piece. For larger and/or complex floor signage designs contact us directly by email.
You can add the following elements to your bespoke floor graphic; alphabet, numbers, dots, graffiti, race track, hopscotch, hearts, qr codes, basically anything.
Installation of Floor Decals
Your unique removable custom floor decal is easy to install and remove. As your made-to-measure floor decals are made of heavy duty high quality vinyl. Vinyl with a class R9 certified anti-slip (skid prevention), for safety. Go here for floor decal installation instructions. Your bespoke floor decals will arrive in a sturdy box, with a free squeegee. Ready for application, no additional tools or work are required. Just make sure you thoroughly clean the mounting surface.
Delivery of Floor Decals
We deliver world wide. UK (London, Leeds, Hull), Wales, Scotland (Edinburgh, Glasgow), Ireland (Belfast), Australia, New-Zealand, United States. Fast and express international shipments of your DIY floor decals. You will receive an automated email with a track and trace code. For express shipments contact us by email. More information see here.