Project Description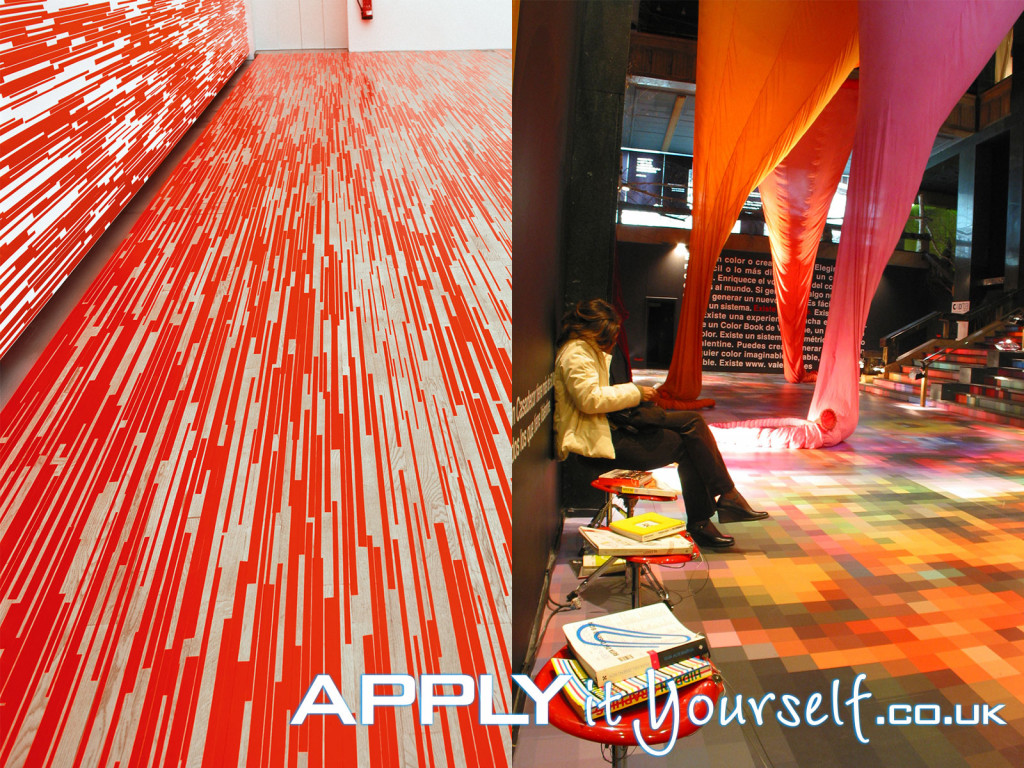 floor stickers, floor decals, floor graphics, exhibition, event
Floor stickers, floor decals, floor graphics, exhibition, event
Custom floor graphic with your own design. DIY. You can upload your custom design or use our online designer to create your own removable floor graphic. If you need, custom floor stickers? Go here.
Your own bespoke cheap, cost effective, vinyl floor graphic. Design it yourself. Install it yourself. Large or even XXL floor graphics with your own custom design printed on it. Our vinyl floor stickers are removable. For a quick quote send us an email. Or quickly calculate it online in our online designer yourself. Just enter the dimensions of your floor graphic and the number of pieces you require.
Custom floor graphics for advertising, art, decor, directional, educational, marking, safety and/or sensory paths. Your bespoke design can be cut-to-shape, if you desire so, arrows, a circuit, a log, a ocean, footprints, a road, or any other shape. It is all possible.
A bespoke floor graphic is also used for events. Business events (Sales, Retail events, Openings, Easter, Halloween) or for events at home (A dance, birthday, wedding, bat mitzvah, party) or even sports and school events (school logos, hopscotch, for lining up, educational, art, decorative, safety).
More information? Email us, see address at the top of this website.
Design Floor Graphics
Design it yourself. Apply it yourself. Your own bespoke floor graphic on your floor (carpet, concrete, tiles, hardwood). Start designing your own custom floor graphic here, with our online designer.
You can add numerous elements to your design like arrows, a circuit, a door, a heart, a ocean, footprints, a road, a apple, 3D picture and/or images. Design your floor graphic for home use (bedroom, kids room, bathroom, kitchen, garage, living rooms), school use (preschool, classrooms, gym, gymnasium, basketball, ) or business use (inside and outside retail locations, offices, hallways, outdoor, hospitals, etc.).
There are 3 options for your floor graphics.
A rectangular floor graphics with your design on it, which you can design using the online designer.
A cut-to-shape floor graphic design with a (white) border around the design.
A cut-to-shape floor graphic design without anything around your design.
For the last 2 options (2 and 3) contact us directly by email with your floor graphic design, wishes and dimensions.
Application Floor Graphics
Your custom floor graphic will be easy to install and remove. More information regarding installation/application see here. Clean the floor thoroughly before installing your floor graphic. Remove paint, grease and other dirt. Make sure the floor is VERY clean and dry before application of your custom floor graphics. This is extremely important!
Allow the adhesive enough time to stick to the mounting surface. So that removing the application-tape/transfer-tape does not lift the floor graphics from the mounting-surface. Remove the application-tape/transfer-tape after a couple of hours, 6 to 12 hours should be enough. (Applicable for floor graphics with transfer-tape/application-tape).
Delivery Floor Graphics
We can deliver your custom floor graphics world wide. We deliver to the UK (London, Birmingham, Manchester, Newcastle, etc.), Wales, Scotland (Glasgow, Edinburgh), Ireland, Australia (Brisbane, Melbourne, Perth, Sydney), Canada (Edmonton, Toronto, Montreal, Vancouver, Calgary, Winnipeg) South Africa (Cape town, Johannesburg), Philippines, Singapore, Qatar, India, etc..
For express delivery contact us directly by email with your bespoke floor graphic design. More delivery and shipping info here.